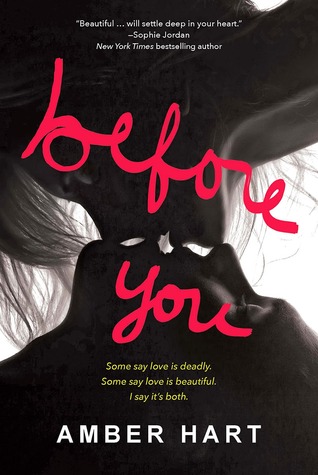 Some say love is deadly. Some say love is beautiful. I say it is both.

Faith Watters spent her junior year traveling the world, studying in exquisite places, before returning to Oviedo High School. From the outside her life is picture-perfect. Captain of the dance team. Popular. Happy. Too bad it's all a lie.

It will haunt me. It will claim me. It will shatter me. And I don't care.

Eighteen-year-old Diego Alvarez hates his new life in the States, but staying in Cuba is not an option. Covered in tattoos and scars, Diego doesn't stand a chance of fitting in. Nor does he want to. His only concern is staying hidden from his past—a past, which if it were to surface, would cost him everything. Including his life.

At Oviedo High School, it seems that Faith Watters and Diego Alvarez do not belong together. But fate is as tricky as it is lovely. Freedom with no restraint is what they long for. What they get is something different entirely.

Love—it will ruin you and save you, both.

Purchase: | Amazon | Kindle | B&N |
"So," I say again, "did you miss me?"
She blinks. Her breathing goes back to normal.
"Yeah," she answers. She stands. I stand as well.
Did Faith just say that she misses me?
She leans against a bookshelf and reaches a hand to my shirt, pulls me to her, our bodies almost touching.
I look around to see if I'm being tricked, but there's no one in sight.
Faith presses one finger against my cheek and turns my head back to her. "Did you miss me too?" she asks in a soft voice.
"What?"
"I think you did—" she pauses to lick her bottom lip, "—Diego."
Those lips, ay, those lips.
Hearing my name come out of her mouth like that messes me all up. This was not part of the plan. And now I can't help myself. I can't look away. My will has dissolved.
"What's going on?" I ask, unable to keep my eyes off her rosebud mouth.
"I'm letting down my defenses," she answers. "That's what you want, right?"
I inch closer.
What is she doing to me?
Of its own accord, my hand reaches for the sensitive spot at the base of her neck above her collarbone. I trace a finger along the dip and my heart thrums faster. Her skin is so soft. I imagine what it would be like to kiss her there.
I drop my hand. I should not be thinking about kissing Faith.
She doesn't back away. Instead, she tilts her chin up, giving me a better view, almost like she wants me to touch her again. A small sigh escapes my lips.
"Mami, you should stop," I half suggest, half groan. But I'm not sure that I want her to stop.
"What if I don't want to?"
She's still clutching my shirt. I wrap my hand around her wrist and pull it down to her waist. Under my fingertips her blood pulses fast, a one-way train on a track bound for collision.
I should walk away. This has gone too far. And yet, not far enough. It's dangerous. I don't trust the feelings surging through my veins. I try to reason that it's no big deal, that she's just like any other girl. Too bad I'm immune to my own lies.
Do I really want to do this with Faith Watters?
Surprisingly, the answer is clear.
Yes.
Amber Hart
grew up in Orlando, Florida and Atlanta, Georgia. She now resides on the Florida coastline with family. When unable to find a book, she can be found writing, daydreaming, or with her toes in the sand. She's the author of BEFORE YOU, AFTER US, UNTIL YOU FIND ME, and sequel to UNTIL YOU FIND ME (untitled as of yet). Represented by Beth Miller of Writers House.
Find Amber at:
Check out what's up for grabs.
Up For Grabs:
2

signed copies of Before You

4

eBook copies of Before You

10

Bookmarks

3

Makeup Swag Packs
Leave a comment or question for Amber.
Please fill out the Rafflecopter form.
Special thanks to the Amber Hart & Inkslinger PR for sponsoring this tour-wide giveaway!
a Rafflecopter giveaway