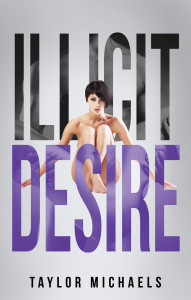 Illicit Desires is the first book in the Illicit Love series by Taylor Michaels, which is the pen name for Nazarea Andrews. I have been a fan of Nazarea's since I read This Love, and I have read everything I could get my hands on of hers since. When I heard that she was writing adult stories under a new pen name, I couldn't wait to see what she would come up with under the name Taylor Michaels. She absolutely did not disappoint, and I loved this story from start to finish. This felt like her other stories, only even more steamy and sexy if that is possible.
When Cora Milan is robbed in front of the building that Raphael Ortiz owns, he will do whatever it takes to get her stuff back and put things right. What he doesn't expect is to develop such a strong connection to her instantly. Cora doesn't care that he is rich and powerful or that he is Miami's most eligible bachelor though and is determined to stay away from him. But Raphael wants her and will stop at nothing until she is his. When Raphael offers Cora a job she can't refuse, things between them change quickly. Soon they are unable to fight what is growing between them, but Cora begins to question who Raphael really is. Cora quickly finds out that being with Raphael is dangerous, and that is the last thing that she needs with her past. But as she gets more drawn into his world, she starts to envision a future with him in where is is finally free of her past. But when her past and present collide, can Raphael and Cora find a way to escape the dangers that would do anything to keep them apart?
I really liked Raphael. I know that he is dangerous and what is typically considered a bad guy, but he was so sexy and protective. He was drawn to Cora right away, and it was clear that he would do anything for her. He risked so much just by pursuing her, and I couldn't help but feel as drawn to his character as Cora was. I loved him with her, and I felt like even though being with him was dangerous for Cora it was also what felt like the safest thing for her. I knew that Raphael would do whatever he could to make sure that she was cared for and safe. Cora was smart ans independent. She had been through a lot in her past and was used to running. But she was able to connect with Raphael and let him in in a way that she couldn't do with others. Their connection felt so real and intense, and the chemistry between these two was insanely hot. Cora and Raphael were so steamy together, and I loved every bit of it!
Illicit Desire is the first book in this series, and this book does end with a cliffhanger. While cliffhangers are frustrating and I hate them, I really loved how this story played out so far. I could not put this story down, and it was so engaging and action packed. I couldn't wait to find out what would happen next, and I absolutely devoured this book. I can't wait to see what happens in the next installment of this series for Cora and Raphael. I highly recommend this book if you are looking for something steamy and hot, but that also has a couple with a really strong connection. These two have a long road ahead of them still, and yet I can't wait to read the rest of their journey. I can't wait to read more from Taylor Michaels and hope that the next part of the story comes quickly!
**ARC Provided by Inkslinger PR**
Purchase:
|
Amazon
|
B&N
|