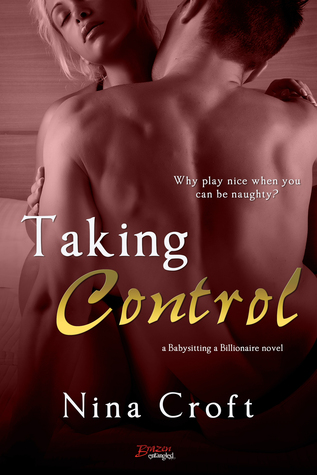 Taking Control is the third book in the Babysitting a Billionaire series by Nina Croft. Each book can be read as a standalone with interconnected characters. I was really excited to read this one because not only is it a second chance love story, but the heroine was a total badass. She was fun and feisty and wasn't afraid to say what was on her mind. This was a fun read, and it had some really great steamy moments as well.
Jessica Bauer has a bit of an attitude problem and isn't afraid to admit it. But when her friend Jake tells her that in order to get her promotion she needs to tone it down and be nicer, she vows to be so nice that her new client will be singing her praises. That is until he meets her new client and finds out that it is none other than Declan McCabe, the same man that left her and broke her heart ten years ago. Jess knows that she needs to make things work, so she sets out to be as professional as possible even though it about kills her. But as the passion reignites between them, she decides to explore the chemistry between them once again and get him out of her system for good. But just when it is looking like they will be able to finally put things to rest, she finds out that Declan isn't willing to let her go so easily this time.
I liked both Declan and Jessica. Declan was the buttoned up billionaire that had lived his life according to what his parents wanted. He always did the right thing and was exactly what was expected of him. But he had a bit of a wild streak underneath that seemed to only be brought to the surface with Jessica. When he was with Jess, you could see all the passion and fun that his life was otherwise missing. I loved seeing him loosen up, and I thought that he was so much better with Jess in his life. Jess was an awesome heroine, and I really liked her character. She wasn't into makeup and fashion, but rather was into guns and kicking ass. She was fun and feisty, and told it like it is. I liked that while she had never fully gotten over what happened with Declan, that she wasn't just sitting around pining for him either. She lived her life and became very successful at what she did. I did think that it was great to see her soften a tiny bit with Declan though. Not that she lost her edge, but just that she was able to have another side to her with him around. They had a ton of chemistry, and I enjoyed the back and forth between them. The tension was so thick, and I just knew that sooner or later there was bound to be an explosion.
Overall, Taking Control was my favorite that I have read from this series. These two were great, and I really enjoyed their story. They had both moved on with their lives, but it was clear that they weren't really living. They were going through the motions and trying to ignore the hole that the other had left behind. I enjoyed seeing the previous characters as well, and I thought that all the secondary characters added a lot to this story. I am looking forward to reading more from Nina Croft in the future, and I would love to see more of some of the others from Knight Securities.
**ARC Provided by Entangled Publishing**
Purchase:
|
Amazon
|
Kindle
|
B&N
|
Book Depository
|