USA Today bestselling author
Mira Lyn Kelly
grew up in the Chicago area and earned her degree in Fine Arts from Loyola University. She met the love of her life while studying abroad in Rome, Italy, only to discover he'd been living right around the corner from her back home. Having spent her twenties working and playing in the Windy City, she's now settled with her husband in rural Minnesota, where their four beautiful children provide an excess of action and entertainment. When she isn't reading, writing, or running to keep up with the kids, she loves watching movies, blabbing with the girls, and cooking with her husband and friends.
Find Mira Lyn at:
Hi Everyone!
Hope you guys had a fantastic summer. Ours was amazing and I almost hate to see it end…except that I've basically been counting down the days to September 16 and the release of
TRUTH OR DARE
forever!! So for that reason alone, I'm thrilled summer is over—sorry kids!
Okay, so in case we haven't met before, I'm
Mira Lyn Kelly
—wife, homemaker-nonextraordinaire, and USA TODAY bestselling write-at-home mom of four… dishing up sexy love stories with sizzle, flirt and fun (when I'm not picking up Legos, lol). And I've got a brand new, sexy Chicago-set series (Dare to Love) that kicks off with
TRUTH OR DARE
. Couldn't be more excited about this one, so here's a bit about it and then a tasty little excerpt to follow.
Hope you like!
When it comes to the whole "Ever-After" business, Maggie Norton can't be bothered. In her world, friendship reigns supreme and the forecast always calls for good times, support, and reliability. Chance of romantic strife or bitter betrayal raining on her parade? Zero. Yeah, Maggie's life is exactly what she wants it to be…right up until the minute her romantically stunted best friend announces she wants to find love and she needs Maggie's help to do it.
Now Maggie's stuck in a year long pact where she has to muscle through one legitimate date a month or suffer a consequence. With Maggie's dating criteria, the pickin's are slim and she's scrounging up eleventh hour dates on a regular basis. Still, as far as Maggie is concerned, so long as she manages to avoid her upstairs neighbor Ty, the sour-patch-stud bringing a brand of relationship dysfunction that rivals even her own, she's coming out ahead. Only when Apartment Three rescues her from a date gone awry and ends up on the wrong side of all her defenses, Maggie's faced with a hard truth about her feelings and fears… and the question: Does she dare to love again?
Okay, and here's that excerpt…

"Maggie, you're killing me," he said, the air crackling between them.

"I'm sorry. It's just—" She wet her lip with the pink tip of her tongue and he fisted his hands to keep from reaching for her. He was so focused on not giving in to the compulsion to sweep his thumb across that damp path she'd laid, he almost didn't hear the rest. "Maybe we're missing what's right in front of us. Maybe we're so hung up on not blowing our friendship and being careful of each other's feelings and remembering what our priorities are outside of this sizzly thing we have going . . . that we're ignoring an obvious solution to a mutual problem."

"What are you saying?"

"I'm saying we're already clear on all the rest of that stuff. Neither of us wants or is available for a relationship. You're waiting for an opportunity with Gina so you can get your son back, and honestly I think that lack of availability might be the only reason I feel safe enough with you to want this at all. We're friends, yes. But maybe, this once, we could be more. Get it out of our system and then start fresh."

He shook his head, mostly because he'd been telling himself "no" for so long he didn't know how to stop anymore. But even as his head swung in that negating denial, he was asking, "Just once?"

"Just once. Wouldn't it feel good to let go? Knowing we're on the same page about tomorrow?"

"Maggie. I don't want to use you."

"What if I use you first?" And there was that single arched brow, the teasing smile and challenge mixed with a breathless sort of anticipation he couldn't ignore. "What if I use you harder?"

"Maggie," he warned, though the only thing she was going to get if she kept it up was exactly what she was asking for.

"Tyler," she mimicked sternly. Then, meeting his eyes with the calculating look that had gotten to him all those months in the hallway, she added, "I'd totally use you harder."

And that was it. He was done.

Because Maggie challenging him with that demon glint in her eye and her whole body exuding a sensual need with his name on it—yeah, she'd hit his button and there was no going back.

"You want hard, Maggie?" he asked, reaching for her as she reached for him, meeting in the middle of a bad idea that suddenly didn't seem so wrong at all and, holy hell, felt all too right.
Thanks so much for reading and hope you'll check out
TRUTH OR DARE
.
Also I love to stay in touch, so for more of my daily babblings and chit chat, you can find me on Facebook at
http://www.facebook.com/miralynkelly.author
or follow me on Twitter at
http://www.twitter.com/MiraLynKelly
If you're just looking to stay on top of the book and contest news—sign up for my newsletter at
http://eepurl.com/A-XKr
And for anyone interested in my complete backlist of books—definitely stop over at my website
www.miralynkelly.com
I'm also sporadically on Pinterest
http://www.pinterest.com/miralynkelly/
collecting hot make-out pictures for my books and more often scoping out crazy good looking desserts to appease my sweet tooth :-)
((Hugs))
Mira
In a deliciously sexy twist on the classic game, USA Today bestselling author Mira Lyn Kelly proves that when playing truth or dare—always choose dare.

After her one attempt at commitment ends with the discovery that her fiancé already has a wife and kid, Maggie Lawson vows that the only people she'll love 'til death do they part will be her friends. Unfortunately that means Maggie letting her bestie rope her into a year-long dating dare: score a new date each month or pay a penalty. Seems doable—until Maggie's date stands her up, leaving only one option: the sexy stud who just moved in upstairs. The problem? He and Maggie can't stop fighting—and that's just the beginning.

His name is Tyler Daniels and the last thing he needs is his neighbor distracting him with her girl-next-door smile and sharp tongue. Tyler's in Chicago for one reason: to woo back his selfish ex in order to reclaim the child he once thought was his—and that means keeping Maggie out of his bed. A tall order, since Maggie has become a bigger temptation than he ever expected to face. But before they can even consider leaving the past behind, Maggie and Tyler must accept a brand-new dare: real, forever love.

Purchase: | Amazon | B&N | Kobo | iTunes |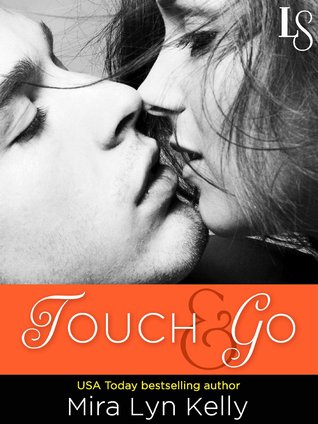 Check out what's up for grabs.
Up For Grabs:
1

$25 Gift Card + Loveswept Mug and Tote
To Enter:
Please leave a comment or question for Mira Lyn.
US/CA shipping ONLY.
Please fill out the Rafflecopter form.
Special thanks to Mira Lyn Kelly + Tasty Book Tours for sponsoring this tour-wide giveaway.
a Rafflecopter giveaway