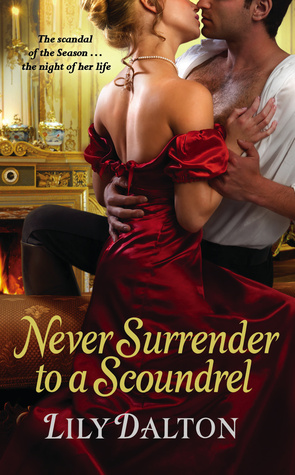 Lily Dalton is one of those authors that I keep hearing about and keep wanting to read. I jumped at the chance to read "Never Surrender to a Scoundrel." I thought it was an interesting plot and I liked the idea of two people thrown together and trying to make it work.
Lady Carissa Bevington is in love. She is ready to make a big announcement about her upcoming engagement and has just the right ball to do it. She has it all planned out except for one big problem: her supposed fiancé married someone that very morning. The day that she was supposed to announce her big engagement he marries someone else. The worse part of it all is that she is now with a little problem. Although no one knows that she is a jilted bride the situation has left her pregnant. I have to confess that I am not a big fan of the pregnancy plot but I read another story with something similar and really enjoyed it.
Lord Donovan Blackmer is a friend of Carissa and realizes that something is going on when he sees her disappearing at different events. He tries to mind his own business until through a series of events he ends up engaged to Carissa. I really enjoyed Blackmer as a hero. I thought his back story was very interesting and I also liked who he was. I have no idea what he is alluded to as a scoundrel because he is really a great guy.
Although I pushed through the story, I didn't really care for it. I didn't really like the heroine and all the misunderstandings became very tedious and annoying. Also, I never really found myself feeling bad for Carissa or her situation. Also, I thought she didn't really appreciate Blackmer and his selfless act of marrying her just to guard her honor. I plan to read more books by Lily Dalton, even if I didn't love this one.
**ARC provided by Publisher**
Purchase:
|
Amazon
|
Kindle
|
B&N
|