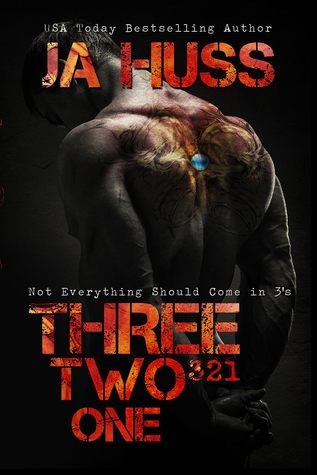 After reading her Social Media Series, I couldn't wait to read more from JA Huss. I absolutely loved Vaughn and thought that his story was so original. I also loved that while the story and ending were very satisfying, it also was nothing like I expected. So I knew that I had to read Three, Two, One as soon as I heard about it. This book is truly hard to classify as any one genre, but I would say that it is an erotic suspense that has dark elements and a non-traditional ending. While it isn't your typical HEA and it is a menage, I was happy with the ending. This book is one that I really can't explain much about without giving away everything, so I will just tell you that it is absolutely worth the read and to give it a shot.
JD and Ark are best friends. They work and live together, and are rich from selling sex. One morning they come across a girl huddled under the awning of a bookstore. She is barefoot and is crying, and appears cold and lost. JD and Ark are both immediately drawn to her. All three of them have secrets, and yet they all fit together. But as they get to know each other, they find themselves bonding in a way that feels right. But can the three of them truly be together with secrets between them, or will their trinity be destined for heartbreak?
Each of these characters was completely original. They were flawed and imperfect, and yet that is what made them so real and appealing. They each had something to offer, and it is what made them incomplete without the other two. JD was charismatic and charming, and you couldn't help but like him. He had a painful past that he was never able to get over, and yet he is also the one that was always smiling and taking care of Blue. He was just so fun, and yet you knew there was so much more to him that he didn't show many people. Ark was darker. He preferred to remain behind the scenes and more often then not he sort of sat back and observed rather than participated. Yet he also felt so deeply. He was always thinking and brooding, and it was clear that he was smart. He wanted more, and yet he held himself back so much and kept so much from everyone. Blue was lost and yet at the same time she was exactly where she was meant to be. She had been through so much that no one knew, and yet she was able to open herself up to JD and Ark and give them her trust. She needed both of them, just as they both needed her. These characters were so complex and different from one another, yet they fit together perfectly. The chemistry between them was off the charts, and these three were beyond hot together!
To say this book is sexy is an understatement. JA Huss knows how to write steam, but she also knows how to develop so much emotion and feeling between the characters that it goes beyond simple heat and chemistry. I honestly cannot say how amazing this book is and go into detail without giving anything away, but this book was more than I could have ever expected. It is unlike anything I have ever read before, and is so much more than a menage. For those worried about the non-traditional ending, I would really recommend still giving this book a chance. JA Huss manages to deliver on every single emotion. While there were parts of this story that broke my heart and were hard to get through, I also found myself very satisfied with how things ended. They weren't neatly wrapped up and tied with a bow, but they felt very real and true to the story. JA Huss is quickly becoming one of my favorite authors, and I honestly cannot wait to see what she comes up with next. This book blew me away, and I know that it will stick with me.
**ARC Provided by Author**
Purchase:
|
Amazon
|
B&N
|