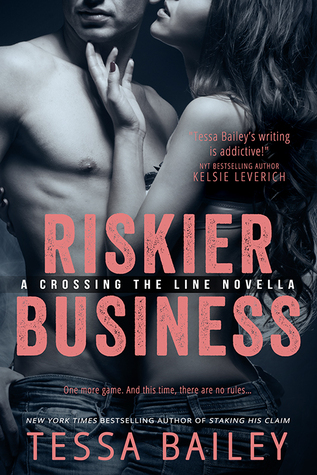 Riskier Business is the prequel to Tessa Bailey's new Crossing the Line series. This novella features Troy and Ruby from her Line of Duty series, though this novella can be read as a standalone. You do not need to have read His Risk To Take to understand this book, but I would recommend it to fully know the backstory for Troy and Ruby.
Ruby Elliott gave up a life of pool hustling and has been living with her cop boyfriend Troy Bennett. But when her father comes around offering a deal of information on her mother that left years before in exchange for her playing a game, she can't help but agree though she knows there is something he isn't telling her. Troy wants her nowhere near that world again, but when Ruby agrees he starts to feel his control slipping and soon Ruby and Troy are no longer on solid ground. Can Troy keep Ruby safe and keep their relationship intact, or will Ruby risk losing her heart and her life?
Fans of Ruby and Troy will enjoy getting more of these two, and the chemistry between them is stronger than ever. But there was a lot of drama in this story and I really felt that while it had heat, it wasn't quite at the level I have come to expect from Tessa Bailey. I did think that this story did a good job of filling in the reader on more of Ruby's history, and I loved that it set up Bowen's story for her next book, Risking It All. I absolutely love Bowen, so it did a great job of putting together some of the puzzle that was Ruby and Bowen's friendship. Since I read Risking It All first, I felt like this story really explained their history. I would definitely recommend reading this before Risking It All, but it isn't necessary. Though I love Ruby and Troy, I think that this story was good but wasn't one of my favorites. I think that what kept me from loving it was that the drama and action going on around Ruby and Troy was the focus, when I wanted them to be the focus. They kind of did their own thing in this story when I wanted them to lean on each other more for support. I still love Tessa Bailey and her dirty talking heroes, and Troy is still one of my favorites. But this novella just wasn't what I had been expecting from her.
**ARC Provided by Entangled Publishing**
Purchase:
|
Amazon
|
B&N
|