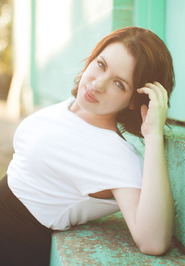 New York Times and USA TODAY bestselling author
Katee Robert
learned to tell her stories at her grandpa's knee. She found romance novels at age twelve and it changed her life. When not writing sexy contemporary and speculative fiction romance novels, she spends her time playing imaginary games with her wee ones, driving her husband batty with what-if questions, and planning for the inevitable zombie apocalypse.
Find Katee at:
In my book
MISTAKEN BY FATE
, there's a lot of seriously sexy times going on. My hero, Garrett, is a Dom who plays at NYC's premier BDSM club (which the series is named after, Serve), and my heroine, Ridley, is a new sub. Their story was a ton of fun to write, but there was one scene he described for Ridley that they never got to play out for various reasons. *rubs hands together*
Enjoy!
***
Ridley stopped just outside the elevator, taking in the third floor. She'd expected Serve to be packed for New Year's Eve, and she wasn't disappointed. There was various methods of play going on wherever her gaze landed, and she shivered as a woman cried out in ecstasy at whatever her partner was doing to her.
Just standing in this room was foreplay in and of itself.
She glanced at Garrett, and was totally unsurprised to find him watching her, a small smile on his lips. "I love how much you love it here."
"The company might have something to do with that."
He nodded at her purse. "Aren't you forgetting something?"
Of course. Her collar. She took it out and fastened it around her throat, the leather warm against her skin. The act of putting it on was like taking a step sideways. Doing it here, at Serve, only made that feeling more pronounced. Here, she wasn't Ridley Ethridge, premier fashion designer and powerhouse. Here, she was Ridley, Garrett's submissive.
She was
his
.
Her skin tingled in anticipation for whatever he had planned tonight. He touched the small of her back, guiding her through the couches and back to the various benches and bondage frames behind them. She slowed, expecting them to stop there, but he nudged her forward again, back to the hallway. They didn't go to the door to the private rooms, though.
Instead, he took her into one of the play rooms that could be opened to viewers. Her heartbeat kicked up a notch when she saw what the room held. A sturdy wooden table with a hook in the ceiling directly above it. She'd seen something like this before, but in the main room itself. That night hadn't been a great one, but it seemed Garrett was going to keep his promise—threat—all the same.
"Strip."
She obeyed instantly, anticipating curling in her stomach, making her hands shake and her breathing uneven. She knew what that hook meant, what this table meant. Ridley checked the window, but the retractable blinds were still down.
"Oh, baby, don't worry—we'll give them a show." Then he was in front of her, using one finger to tip her face up to brush his lips across hers. "Just not yet."
She slid off her dress and panties and set them aside, out of the way. Most scenes they did started out like this, but it never got old. She waited, holding her breath, as his gaze caressed her. "Hands." Once she held them out in front of her, he fastened the Velcro cuffs around them. "Too tight?"
"No."
He kissed her again, taking it deeper this time, stroking her tongue with his, making her moan. Garrett dug his hands into her hair, tilting her head back for better access, access she was all too willing to give him. She melted against him, her cuffed hands pinned between them. This never got old. She suspected it never would. Ridley could spend the rest of her life kissing Garrett.
"Tell me your safe word, baby."
This, too, was all part of the process. She smiled against his mouth. "Frankenstein."
"Good girl. Now, up on that table." He didn't step back, though. Instead, he helped her climb onto the table and then joined her, lifting her hands above her head to fasten them to the hook above her head. The position left her body stretched out and completely bared for him.
For anything he wanted to do to her.
He rotated the hook, patiently waiting as she shifted along with the movement, until she faced the giant window taking up the entire wall. It was there that people could stand and watch. With her elevated position, they'd be able to see
everything
. "Sir—"
"Problem?" There was nothing in his voice. No sympathy, and no judgment, just a simple question all wrapped up into a single word.
She took a shuddering breath. This shouldn't feel different than doing public playing in the main room, but it did. When they were out there, there were other things to focus on. People may watch her, but they were just as likely to be watching another scene. Anyone watching this scene, wouldn't have any distractions. Their attention would be solely on her and Garrett. It seemed a silly thing to get nervous about now, but that didn't stop her from testing the cuffs and hook above her head, pulling down on it.
"Ridley." His voice stopped her fledgling panic in its tracks. This was Garrett. He was totally and completely in charge of this, and he'd be there with her every step of the way.
"I'm okay." And it was true.
"You're sure?"
"Yes, Sir."
He nodded. "Remember your safe word, baby." Then he slid a blindfold over her eyes.
She tensed, listening to him climb off the table, and then tensed further when the sound of the blinds being drawn whispered through the room. She tried to figure out where Garrett was in the room, but the only thing she could focus on was the fact that there were unseen eyes on her. Her blasted nipples perked right up at the thought, and her skin heated in a seriously pleasant way.
A blow landed, light and stinging, on her inner thigh, and she jumped, her mind automatically paging through the possible instruments he could be using and coming up with one—a flogger. She instinctively tried to close her legs, but his hand on her knee stopped her. "No, baby. You keep them spread until I'm done with you, and I'll give you something special."
Damn him to hell and back. She glared at the inside of the blindfold, aggravated and turned on and trying not to bite her lip as she waited for the next place of impact.
He didn't make her wait long. The flogger flicked against her skin, tracing a path up her inner thigh, dangerously close to the V between her legs, leaving a path of fire in its wake. She made a little sound of protest when he started on the other leg, not sure if she was grateful or disappointed that he'd skipped that sensitive flesh. All her needs were twisted up, confused and disorientated and
I need your hands on me. Please, Garrett, Sir, please
.
"How can I resist such beautiful begging?" His soft laugh wrapped around her. Apparently she'd said the last bit aloud. Crap. But then he was doing exactly as she'd asked, his hands tightening on her sensitive thighs and spreading her even further. She grabbed the hook above her head in a vain effort to keep her balance, but his grip wasn't letting her go anywhere.
And then his mouth.
Good lord, his mouth.
Garrett licked up her center, making a noise of deep appreciation that set her nerve endings on fire. "It gets me every time, baby. You love the pain. I touch you afterwards and you're so fucking hot and wet and needy. It drives me wild."
She opened her mouth to respond, but he sucked her clit into his mouth, stealing her words and her breath and her thoughts. All that was left was need and desire. She moaned, tilting her hips forward to give him better access.
So close
.
And Garrett, the bastard, knew it, because he gave her one last lingering lick and backed off. The table didn't so much as shift, but she knew he was moving because his hand trailed up her thigh and around her hip to give her a slap on the ass. She made a sound of protest, earning another laugh.
"They're watching, baby." His body was suddenly pressed against her back, wearing only a pair of jeans. He cupped her breasts, lightly pinching her nipples. "They are so damn jealous of the fact only I get to touch you." One hand skated down her stomach to stroke her clit. "That only I get to coax you to come." He slipped two fingers inside her, his breathing harsh in her ear. "Like I'm going to do right now." He kept working her, playing on all her hot spots, driving her closer and closer to oblivion.
Ridley's breath sobbed from her throat. "Please."
"Only because you beg so nicely." His lips brush her ear. "Come for me, baby."
And, God help her, she did. She always did. Her orgasm tore through her, ripping a scream from her throat, and still he kept touching her, sliding his fingers against her clit, drawing it out until she was sure she couldn't stand another second.
"Fucking beautiful." He kissed the back of her neck. "But this next part is only for us."
Before she could ask him what he meant, his comforting warmth was gone. She was dimly aware of the sound of the blinds going down, and then he was back, lifting her off the hook and pulling her to the edge of the table and turning her onto her stomach. Garrett kicked her legs apart, her toes barely touching the floor. She heard the crackle of a condom, and that was her only warning.
He pushed inside her in a single move, sheathing himself to the hilt. Before she could truly adapt to the intrusion, he did it again. Ridley pressed her cheek to the cool table, unable to do anything but take it. And, oh what a glorious thing to take. His strength kept her pinned in place as he fucked her. Her body tightened in anticipation, readying for an orgasm she wasn't sure she could survive. "Not another."
"Yes, another." There was no mercy in his command, just a fiery need that matched her own. He pulled her further off the table and reached around to stroke her clit. "I've got you, baby. Let go."
A gong sounded somewhere outside the room, and then another, and another. Midnight.
With one last thrust, he pushed her over the edge again, sending her screaming into bliss. She lay there and tried to relearn how to breathe, vaguely aware of him coming, his hands digging into her hips as he finished. The seconds ticked by, and the gongs finished tolling.
Garrett kissed first one shoulder and then the other. "Here's to starting a new year off right. I love you, baby."
"I love you, too." Ridley grinned against the table. "Best New Year's Ever
ever
."
The man she should want, or the man she craves…

Fashion designer Ridley Ethridge thinks she's found the perfect, stable sort of guy in her childhood friend Will Reaver. With seduction in her sights, she arranges to rock Will's world at an exclusive club that caters to those with adventurous and erotic appetites. What happens next is both intense and satisfying—until Ridley's blindfold comes off to reveal Will's twin brother. The same twin who broke her heart eight years ago.

Former soldier Garrett Reaver hasn't ever gotten Ridley out of his system. And now that she's before him in all her submissive glory? He'll be damned before he lets someone else have her, especially his brother. Because Garrett and Ridley have some seriously unfinished business to take care of, and it starts now. And this time, he'll show Ridley how exquisite a relationship with him could be…if their past doesn't catch up to them first.

Purchase: | Amazon | Kindle | B&N | iTunes | Kobo |
Check out what's up for grabs.
Up For Grabs:
To Enter:
Please leave a comment or question for Katee.
Please fill out the Rafflecopter form.
**Don't forget to enter the grand prize giveaway!
Special thanks to Katee Robert for sponsoring this giveaway.
a Rafflecopter giveaway