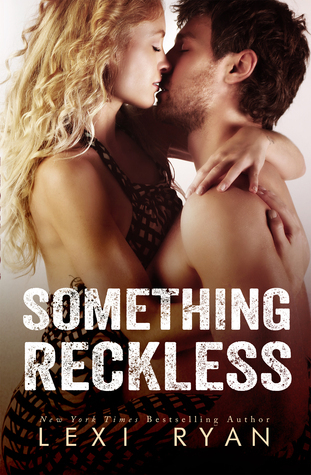 Something Reckless is the first book in the Reckless & Real Series by Lexi Ryan. This series is set in the New Hope world, but these can be read as standalone from those books. I loved getting to see some familiar faces though, and if you haven't read any of those books I would definitely recommend them, especially the Here and Now books as the Reckless & Real Series features Hannah's sister Liz. I couldn't wait to start this book, and Lexi Ryan proved again why I love her writing so much! This book is an absolute must read, and I am dying to get my hands on the next book already!
Liz Thompson has been trying to find the right guy while also searching for a new job. Things haven't been going her way for a long time, so she has turned to online dating. She joined Something Real, a new dating site for her area that lets you meet people without ever exchanging photos or names until you reach certain points in your relationship. There she met Riverrat69 and they instantly hit it off. He was looking to research the app for investment purposes and wasn't looking for anything more, while she was looking for love. As time goes on, Liz begins to pick up on hints about who River might actually be, and she becomes convinced that he is her former lover Sam. She has never been able to get over Sam, despite the history that they have between them. When River suggests that they break the rules and meet in person, Liz finally agrees. Will River actually be Sam though, or has Liz been seeing what she wants rather than the truth?
Liz and Sam's story starts in Something Wild, the free prequel by Lexi Ryan. While you don't need to read that to understand this story, I would highly recommend it because for one it is free and for two you get to see the history between Sam and Liz and how things began for them. Liz had always wanted Sam, and had tried to get him to notice her. Sam had tried to do the right thing and wanted to wait for her to be older, as she was his little sister's friend. But the two of them always cared about one another, despite the many obstacles in their way. I was really rooting for these two from the start. It was obvious that a lot had happened over the years and that a lot of it wasn't good, but the connection and chemistry between them was undeniable. These two were smoking hot, and I loved seeing them find their way back to one another. Liz also had a connection with River, and it was easy to see why she was so convinced that River and Sam were the same person. I thought that they were very compatible and I was really looking forward to their meeting and the big reveal.
I will say that this book is similar to Lexi Ryan's other stories, in that just when you think you have everything figured out she throws you a curve ball. This book was fantastic, and I absolutely couldn't put it down. I thought I had it figured out right along with Liz, and it turns out I didn't have a clue until the very end. After finishing this story, I don't know if I wanted the next book more or to start all over and go back through this entire book again. I definitely need the next book, and I have to know what happens for Liz and Sam next. Things were left hanging in this one, and I need to see what happens after how things ended here. Luckily we don't have too much longer to wait, because I think it would probably kill me if we did. I really can't say much about how things ended or what happened, but I will tell you to just read this. Lexi Ryan is a fantastic writer, and I have yet to read a story of hers that I didn't love. She is absolutely an auto-buy for me, and all of her books are must reads that I know I will enjoy.
**ARC Provided by AToMR Tours**
Purchase:
|
Amazon
|
Kindle
|
B&N
|