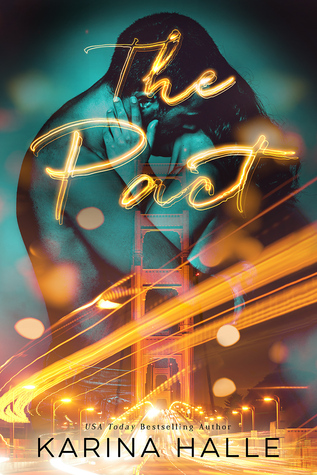 Let me just start off by saying I absolutely loved this book! This book gave me all the feels without leaving me a total emotional wreck. I have been a fan of Karina Halle's since the first book of hers I read, but after reading The Pact I absolutely cannot wait for more from her! Karina proved with this contemporary adult romance that she really can do it all. While I am a huge fan of her work, I will tell you to keep in mind that this book is very different from everything that she has done in the past so fans of hers should go into The Pact expecting for this to be unlike anything else she has written. I loved this book and pretty much devoured it, but that being said I can see how this book will bring out strong reactions on both sides. I think that some will really love this book like I did, but I also think that others will have a really tough time with this one.
Linden McGregor and Stephanie Robson have been best friends since they met through their mutual friend James when they all worked together at a bar. While Stephanie and James dated for awhile, she became close to Linden and they kept things platonic. After Stephanie and James broke up, both Stephanie and Linden dated others and tried to find the right person for them. When they are both 25, Linden suggested a pact to marry each other if they still were single or not serious at the age of 30. As the years pass and they both approach their 30th birthdays, many things change and they find themselves in a complicated situation where sex, friendships and relationships are all on the line.
I absolutely loved Linden! Seriously this guy is amazing, and by far one of my all time favorite book boyfriends ever. He was a dirty-talking, sexy helicopter pilot with a Scottish accent, and he really could not have been sweeter. He definitely made some mistakes and he should have been honest with Steph on more than one occasion, but he cared deeply for her and was such a great guy. He was supportive and encouraging, and always pushed her to make her dreams come true. Steph was great as well. She was smart and sweet, and I loved her friendship with Linden. They clicked so well, but you could tell that for her it took awhile for things to become more than just friendship for her. While Linden seemed to always be interested but unable to do anything about it, Stephanie was attracted to him but didn't see more than friendship until later on. I thought that she was a great friend to him though, and I really liked seeing her start to realize what a great guy she had right in front of her. These two definitely had chemistry between them, but I loved seeing it build. I was glad that it started off as a bit of tension that just kept growing rather than them jump into bed together before they were ready for each other. Because once they finally made it to that stage, you could tell just how perfect for one another they were.
Here is where I think that some people will have problems...the relationship between Stephanie and Linden takes awhile. For a good chunk of this book, they are not together and one or both of them are seeing others. This is a friends to lovers story, and it starts off with nine years of friendship. It honestly didn't bother me though, because I truly felt that while they were attracted to one another and were developing real feelings that they weren't ready for one another yet. They had some growing up to do as individuals and needed to figure some things out first. For me, this was completely natural and I enjoyed the progression of their relationship even with others involved. It wasn't always easy, and I hated most of the people they were with, but it felt real to me. Another thing that I think people will probably have some issues with is the fact that Linden was afraid to really pursue anything with Stephanie because of his friendship with James. He worried about how James felt and didn't want to destroy their friendship. While I didn't agree with his choices when it came to James, I do understand what he was thinking. He had never really had any close family relationships or love in his life, and he felt like James was almost a brother to him. So while it drove me crazy and broke my heart for him and Stephanie at times, I did get it even if I didn't like it.
Overall, I thought that this story was real and believable and I adored Linden. For me this book was fantastic and beautiful, even when it was breaking my heart or bringing on the tears. I loved Linden and Stephanie and had faith that they would find themselves together in the end, because a love like theirs really had no other option. Their connection was too strong, and I knew they would eventually figure things out and fight for each other. I honestly love Karina's writing style, and this book was everything that I have come to know and love from her but also so much more. I cannot wait for more from her in the future, and I can't wait to go back and read this story all over again.
Purchase:
|
Amazon
|
B&N
|