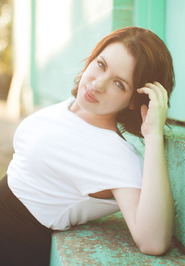 New York Times and USA TODAY bestselling author
Katee Robert
learned to tell her stories at her grandpa's knee. She found romance novels at age twelve and it changed her life. When not writing sexy contemporary and speculative fiction romance novels, she spends her time playing imaginary games with her wee ones, driving her husband batty with what-if questions, and planning for the inevitable zombie apocalypse.
There's something magical about the summer. I think it goes back to when I was growing up and the summer meant long days with where I could run around like a little savage, barefoot and with a constant book in tow. Though I'm a grown up these days (mostly), some things never change. The summer is still prime reading time for me. This summer, I have a whole list of books that I'm looking forward to reading, but I thought I'd share my top five with you! I'm a giver like that. ;)
So, in no particular order:
-
Magic Shifts
by
Ilona Andrews
. I've been following this series since around the time the third book came out, and the years since then have only made me love this world and these characters even more. Kate and Curran have one of the best relationships out there in urban fantasy, and I'm all sorts of wiggly puppy excited to see where Andrews takes them next.
-
The Bourbon Kings
by
JR Ward
. Confession—I'm hopelessly behind on the BDB books. I think the last one I read was Rhevenge's. I keep buying them, and then I keep not managing to read them. Because I suck. But the Bourbon Kings marks a departure for her in a big way, and I am really, really curious to see how this new series starts. I've been seeing reviews pop up here and there, and they're all outstandingly great!
-
Dirty Thoughts
by
Megan Erickson
. I've had my eye on this book since Megan and I shared a cover reveal awhile ago, and the more I learn about it, the more on board I am. The cover is sexy as hell. The hero is gruff and grumbly (be still my heart!). And dirty mechanics! YES, YES, THANK YOU, SIR, MAY I HAVE ANOTHER?! Ahem. Sorry. My fangirl is getting the better of me. But, seriously, cannot wait for this book!
-
Breakout
by
Ann Aguirre
. This is the final book in the Dred Chronicles. I've loved every single book that Aguirre's ever written, and I don't expect this to be any different. She creates such amazing worlds and populates them with a wide variety of characters that make my inner reader happy and my inner writer start taking notes. Dred is one of my favorite characters of hers, and as sad as I'm going to be to see the series end, I can't wait to see how she pulls it off!
-
Rescuing the Bad Boy
by
Jessica Lemmon
. Okay, so TECHNICALLY I've already read this one. But I loved this book so freaking much, that when it releases I'm going to be in danger of going to the bookstore and shoving it into people's hands. The hero is so incredibly messed up that I just want to hug him until all his broken pieces fit back together again. The book hits all the right notes, and I'm really looking forward to re-reading it again! So much love!
I'm planning on doing an excessive amount of reading this summer since I'm taking a few months off to bring the newest member of our family into the world. Since I'm compiling a master list of things I want to read, what are some books you're looking forward to reading this summer?
New York Times and USA Today bestselling author Katee Robert begins a smoking-hot new series about the O'Malley family—wealthy, powerful, dangerous, and seething with scandal.




Teague O'Malley hates pretty much everything associated with his family's name. And when his father orders him to marry Callista Sheridan to create a "business" alliance, Teague's ready to tell his dad exactly where he can stuff his millions. But then Teague actually meets his new fiancée, sees the bruises on her neck and the fight still left in her big blue eyes, and he decides he will do everything in his power to protect her.




Everyone knows the O'Malleys have a dangerous reputation. But Callie wasn't aware of just what that meant until she saw Teague, the embodiment of lethal grace and coiled power. His slightest touch sizzles through her. The closer they get, though, the more trouble they're in. Because Callie's keeping a dark secret—and what Teague doesn't know could get him killed.



Check out what's up for grabs.
Up For Grabs:
1

$10 Amazon Gift Card + eBook copy of The Marriage Contract
To Enter:
What are some books you're looking forward to reading this summer?
Please fill out the Rafflecopter form to enter giveaway.
**Don't forget to enter the grand prize giveaway!
Special thanks to Katee Robert for sponsoring this giveaway.
a Rafflecopter giveaway