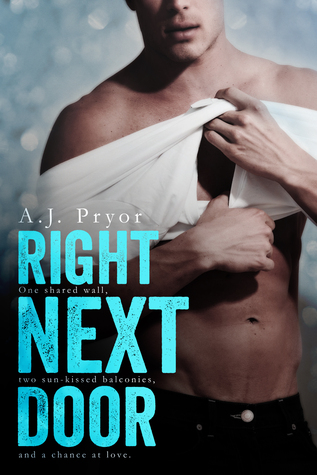 Right Next Door is my first book by A.J. Pryor. I will admit that the cover is what immediately drew me to this story, but what really intrigued me was the blurb. This one sounded so interesting, and I knew I had to read it. While there were several things that I really enjoyed here, there were also some things that didn't work for me.
Addison Peacock has spent the last several years waiting for the man she loved to return to her. After graduation he proposed, but her father got sick and she was forced to look after him. Shortly after her fiance left, promising to return to her. Now five years later, he has finally kept his promise and returned. Only Addison is surprised to find out that he is already married. Though Addison is crushed, she finds herself turning to her sexy new neighbor Damien Walker. Damien is no stranger to pain either, and has struggled to put his life back together after an accident took everything from him. But as much as Damien is drawn to Addison, he isn't interested in a one night stand and he knows that Addison isn't ready for more. Can Damien show Addison what they could have together, or will Addison's past destroy any chance they have at a future together?
While I liked both of these characters at times, a lot of the problems I had with this book were with Damien and Addison themselves. Addison came off as weak and wishy-washy a lot in this book, and it was really hard to get behind that. For a smart and successful woman, she let her ex completely ramrod her life and she seemed to be incapable of putting him in his place for the majority of this story. For someone who had up and left her and she hadn't heard from him in five years, I felt like her inability to say no to him and really stand by that was beyond realistic. I liked her with Damien though, and when they were together things were great. These two were forming a connection and I could definitely see the chemistry between them. But then Addison would go weak, and either something would happen with her ex or she would suddenly decide that she couldn't be with Damien. Damien was just as problematic. For someone that was intent on winning Addison and doing things right, he seemed to be just as hot and cold. Though he always claimed to want her, he would push her away at times she would finally come to him and he also seemed to easily jump to conclusions. Add that to the fact that he wouldn't fully open up to her, yet he expected her to be completely open to him, and I just had trouble ever really getting behind these two as a couple.
I also felt like while things were nicely wrapped up at the end and everyone wound up happy, that it was an unsatisfying ending to me. I didn't care for all the time these two spent apart, especially when it quite frankly never made any sense to me at all. Addison had already left for a good chunk of time to "find herself", so I just didn't see why she then needed to leave and spend even more time "finding herself". By the time that things started to turn around, the book was over and I was left wanting more. The epilogue wasn't really enough for me to feel satisfied after the way things had played out previously. So while I thought that this story had a lot of potential, it ended up falling flat for me.
**ARC Provided by Inkslinger PR**