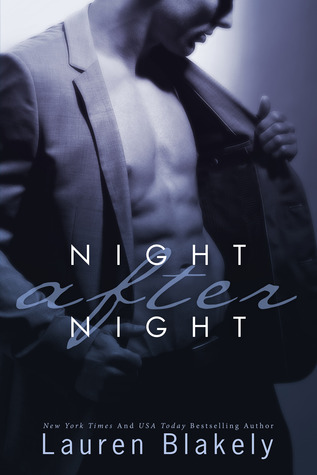 Night After Night is the first book in Lauren Blakely's new Seductive Nights series. There is a prequel novella before this one called First Night that can be read before or after this book as it is not needed to understand the story. However I highly recommend starting there so that you can see how Clay and Julia first meet. This book was absolutely fantastic, and if it is possible I now love Clay even more than I already did! Trust me when I tell you that these books are not to be missed, and Lauren Blakely never disappoints! Night After Night was so hot and steamy, and I can't wait to get more Clay!
Clay and Julia met one night at the bar that she co-owns and proceeded to have a night filled with passion. But their relationship was only supposed to be for one night. With Julia and Clay living on opposite coasts and Julia having a past that she is still dealing with, things between them are more than complicated. But neither Julie nor Clay thought that they would connect so strongly in such a short amount of time. Clay is determined to convince Julia that they are worth giving a shot and asks her to fly to NY for the weekend. Julia goes and they have an amazing weekend together before she suddenly gets called back to CA when her past interrupts her life again. Clay is confused and hurt by her abrupt and inexplicable actions when he thought that they were both feeling the same things. Clay and Julia both want to be together more than anything, but there are still a lot of things standing in their way. Can they get past the distance and the past that Julia is trying to handle on her own? Or will Clay's past keep him from taking the risk when Julia won't tell him what she is running from?
Clay is pretty much the most perfect book boyfriend ever. The more I get of him the more I want. He is so sweet and sexy, and I love how he is both commanding and gentle. This man is so complex and there is so much to him, yet what you see with him is exactly what you get. I love how he just lays it all out there and isn't afraid to be exactly who he is. He knows what he wants and he goes after it. He also has no problem giving as well as taking. I really love how he is so comfortable in his own skin and with his desires. Julia is a really easy heroine to like. She is strong and smart, and she cares so much about the people that she loves. She does everything in her power to help them when they need it and to also protect them in any way that she can. I love that she is is able to be fun and feisty one minute and then she can be so open and vulnerable the next. I really liked seeing her start to let Clay in. Even though it wasn't everything that he wanted to know, she really allowed him to see so much more than she ever intended or expected. Clay and Julia are exactly the perfect match for the other. They fit together so seamlessly and they are so right for each other. They have such a strong connection in every way, and it only makes it that much more intense because of their physical compatibility. These two are beyond hot, and I recommend that you take Lauren Blakely's warning about needing extra panties seriously! Clay has to be one of the best at dirty talk that I have ever read!
Overall, this is another fantastic book from Lauren Blakely. I don't know how she does it, but with every book she continues to get better and better. Clay has instantly cemented himself as a permanent book boyfriend and I know that I will enjoy him...I mean reading about him over and over! This book was one that I devoured in one sitting and was left wanting more. I can't wait for the next book in the series, and I need to know how things go for Julia and Clay. We are left at the end with a bit of a cliffhanger, but luckily the next book is scheduled for release next month so there isn't too long of a wait. I am so excited to find out more about Clay and Julia and how they deal with all the obstacles in their way. These two are so perfect for each other that they absolutely have to end up together! I can't wait to get the rest of their story and see what Lauren Blakely has in store for us. Lauren Blakely is definitely a must read author, and this series is shaping up to be my favorite of hers yet! If you are a fan of Erotic Romance I highly recommend that you pick this one up for sure.
**ARC Provided by Author**
Purchase:
|
Amazon
|
Kindle
|
B&N
|