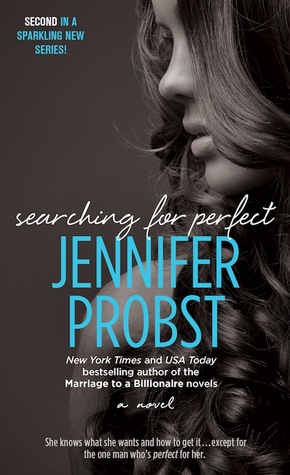 Jennifer Probst is such a great author! She really knows how to make chemistry jump off the pages! I have enjoyed all her books. Her characters are always fun to read about and fun to watch fall in love. I love Nerds! "Searching for Perfect" is a fantastic romance! Jennifer Probst has become one of my favorite contemporary authors. She is a combination of Julie James and Kristen Higgins (two of my favorite contemporary authors). Probst's character are funny, deep, and very human.
I'm so happy that Kennedy had her chance at love! I loved the complexities of her character and the issues that she had to face. To me, these are real-life issues. Although Kennedy has it "all", underneath she has very serious issues. I also think her relationship with her friends was a huge success of the story. It reminded me of Sex and the City, the girls all look out for each other and love each other. Kennedy is dedicated to making Kinnections, her matchmaking agency with her friends, a success. She is a great business woman and knows how to get results. When she sees Nate in all his disaster she can't walk away, she knows that she can help him find love.
Nate was equally as interesting. The transformation was fun and hilarious, I think the main point is that he essentially stayed who he was. Although he was physically more presentable, he remained a great hearted guy, who knew what he wanted! I loved how Nate's character evolved but he essential stayed the same. The speed dating scene at the beginning was so hilarious. But what I loved about him was his loyalty to his brother. I loved how the author really showed their bond. I also loved that Nate was not easily dissuaded by Kennedy's insecurities and rejection, he gave her all the space she needed space but never stopped loving her. I recommend this story highly, my only gripe was all the back and forth at the end, but still, I would read this book over. That is how much I loved it!
I can't wait to see how is the next one to make a connection at Kinnections!
Purchase:
|
Amazon
|
B&N
|